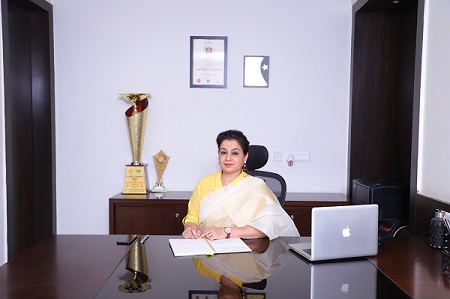 Ms. Anju Dhawan, Principal
"The central purpose of education, learning and collaboration should be to mediate voluntary evolution."
In the contemporary times, where the fast pacing technological advancements are becoming obsolete at the blink of an eye, the responsibility of the educator fraternity has multiplied by leaps and bounds, and feeding our students with knowledge without exposing them to experiential learning would be nothing less than a folly unforgivable. Making a paradigm shift from information loading to exploring human intelligence is imperative to encourage attributes like innovation, creativity, farsightedness, life skills and the ability to handle human emotions. Accumulation of data or information should not be considered synonymous with human intelligence.
The objective of education in the present times should undoubtedly aim to motivate and inspire the students to think intensively, explore immensely, analyze critically as they learn to take the knowledge gained a step further by applying it in multifarious situations or challenges faced by them. This is what progressive education is all about and this exactly the core philosophy behind the different educational strategies practiced at Manav Rachna International School, Ludhiana.
At Manav Rachna, we  ignite young minds and relentlessly strive to provide a platform to them that is instrumental in transforming  their unbridled thoughts into well contemplated actions thereby promoting their metamorphosis into confident, decisive , conscientious, empathetic and ethical global citizens of the global village. The dedicated and committed faculty members patiently work to identify the unique capabilities and skills of the students. We are indeed grateful to the stakeholders who work  in collaboration with the school and support us in facilitating our students to blossom and spread their fragrance far and wide. I believe that every child is blessed with a uniqueness to leave behind footprints for others to follow and as an educator I will always work to empower my Team of students and Facilitators to create new benchmarks in every sphere of life.
May the Almighty bless you all with eternal happiness and sunshine . 
Reading, Writing, Travelling, Listening to Music, Cooking, Dancing, Playing Badminton and Table Tennis