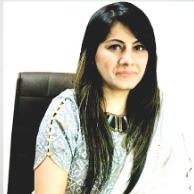 Ms. Pawandeep Kaur
Headmistress
Qualification– M.Sc (Mathematics), B.Ed
Experience– 14 years
Achievements: Award of Appreciation by HRD Ministry, Certified Master Teacher Trainer Level 1, Bestowed with Global Teacher Award by AKS Education Award (Alert Education), India
It is my privilege to be a part of this eminent institution where it is firmly believed that the basic purpose of education is to teach values, revitalise the hidden talent, train the young minds to think, dig out the possibilities to question and make them life-long learners.
We strongly believe that every child is unique with a different learning style. So when it comes to students, we ensure to set an approach to the holistic growth. Each student is nurtured and a strong sense of social and environmental responsibility is ingrained through academic and co-curricular activities that include innovative and child-centric soft skills and sustainable development curriculum.
One thing that stands out when you enter into our campus is the HAPPY learning environment because we believe when teachers and students enjoy school, everyone does better. Therefore, we start each day by greeting our students with a smile, connect with them and create a bond of trust that helps in building a joyful teaching-learning domain. We foster a positive atmosphere and believe in a strong association between students and teachers aiming to create a milieu that strengthens the quality of education.
We have a team of fabulous faculty members who display incalculable energy and earnest commitment towards their profession and take the onus of making the child's educational journey rich and experiential.
We are building the global citizens….because we believe that these students are the world of tomorrow!
Stay Happy!