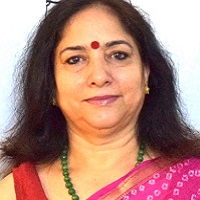 Ms. Minakshi Sharma
Headmistress, Senior School
Qualification: M.Com, B.Ed
Experience: 28 years
Having an experience in Teaching and holding Administrative positions in schools like D.A.V Public School and Ryan International School respectively, I feel extremely proud to be a part of MRIS-14 since its inception in the year 2007. I have been fortunate enough to see this school prosper and move up the ladder to be one of the most distinguished schools.
Committed to uphold child centered ethos, Manav Rachna International Schools have been a pioneer at nurturing individuals with paramount values and multivalent capacities. This complex task requires a strategized curriculum which guarantees effective life skills training with academic excellence. Being the Headmistress of the Senior Wing brings in a lot of responsibilities towards the students, parents, and environment of the school as well as the teaching staff. A true leader is the one who supports the others in climbing up the ladder of success. I truly believe in Jack Welch's words that:
"Before you are a leader, success is all about growing yourself. When you become a leader, success is all about growing others."
Manav Rachna has been successful in nurturing creativity and encouraging innovative thoughts and ideas. I strongly believe in the vision of the school to make the child the heart of the learning process helping him become a transformational leader through understanding, knowledge and skills. I believe this can be only achieved if the immediate environment of the child is healthy- physically, mentally and spiritually. The environs encompassing parents and teachers are those with whom the child interact on a daily basis. Thus, we, at MRIS are perpetually striving to empower and motivate our faculty, parents and our precious students.
I am highly grateful to my guiding mentors to support me through all my endeavors towards accomplishing all goals that have been established for the Team. I feel extremely elated to say that working at MRIS has effectually boosted my team building strategies as I consider that outstanding and exalted results can only be achieved if we work in a unified team.
In the end, I would like to add that Quality education is all about possibilities, unleashing a child's talents, instilling values and developing self confidence in the child. We are proud to be the members of Manav Rachna fraternity which leaves no stones unturned in taking initiatives towards co-curricular activities, leadership and management, life skills, educational clubs and competitions to propagate learning experiences.