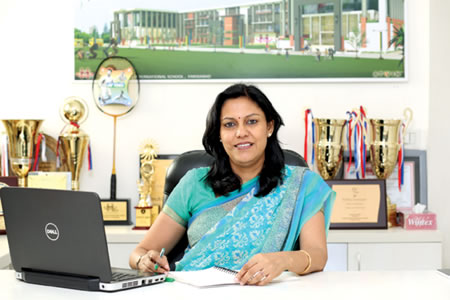 Ms. Mamta Wadhwa, Principal
Principal's Message – MRIS Faridabad Sector 14
The dynamic shifts in education and the growing needs of passionate young millennial craving an all encompassing learning experience have aspired us at MRIS Sector 14 to empower today's youth with exuberance that stems from the acquiring of skill sets and potentials along with providing for exemplary academic opportunities.
In keeping with the modern times, we also infuse traditional ethos that transforms our students and helps them nurture and uphold the righteousness of our rich culture thereby aiding the development of their cognitive, emotional and social abilities. Through constant, unflinching support of competent and seasoned educators, students are able to garner experience and a nonpareil competitive zeal to pursue life's goals with a perspicuous vision. 
Coupled with this vision is our zest to acquaint our young minds with the assiduity of the ever evolving world and harness the latent within each through latest instructional standards and a vibrant modernistic structure. We aim to empower our students with the spirit of enquiry and research through technologically advanced infrastructure so that they can freely explore the realm of knowledge and utilise it to the best of their potential.
MRIS Sector 14 continues to grow in terms of experiential learning at its behest, powered with the idea of metamorphosing individuals into the superlative version of theirs. Having proved our mettle as one of the premiere educational institutions across Delhi-NCR, we continue to foster all round development of every individual which in turn strengthens the moral fabric of a progressive society.