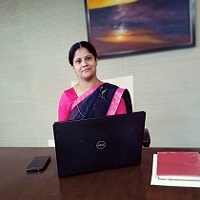 Ms. Maya Vijayan
Headmistress –Senior Wing
Educational Qualification: BSc (H) Zoology, MBA, MSc, B.Ed., MPhil.  
Ms. Maya Vijayan is a seasoned educator and possesses over 17 years of extensive experience in the field of education. She started working with MRIS in 2007. She was promoted as the Academic coordinator and is presently the Headmistress of the Senior Wing. She has a dynamic and versatile personality and is an ebullient source of energy to the people around her.
She is educationally enlightened, technologically savvy and open to pedagogical changes to create a positive learning environment. She had the opportunity to work with CBSE as a resource person and conduct workshops. Her repertoire includes multidisciplinary curriculum planning, best practices for inclusion and school improvement plans. She is always available, is a good listener and most importantly follows through on a solution. She has built a reputation for being the hardest worker. She always keeps a smile on her face and maintains a positive attitude.
In her words, 'I got into the field of education to make a difference. I am fortunate to get this opportunity each day at MRIS. We are here to nurture, counsel and educate every student entrusted with us. I believe that we should have the conviction and passion to be on the forefront, work to promote the academic, emotional and social well-being of all the students. Hence, we work in synergy with all the stakeholders to improve both the community and school. We should never put limitations on self. We are resourceful and find creative ways to maximise the learning of the students. Our goal is to always- "Take a hand, Open a mind, Touch a heart and Shape the future." All expectations and actions are directed to ensure a quality school'.