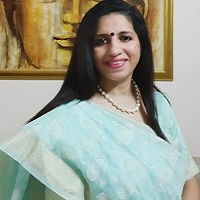 Dr. Shalini Bindra
Vice Principal
Qualification: M.Sc., M.A. (English), PhD, B.Ed., MBA (Human Resource Development )
Experience: 20 years
Certifications: Certified Member of Ontario College of teachers, Canada
International Certified Career Coach
Manav Rachna International School, a name synonymous with the transformation of an individual into a complete human being endowed with the perfect balance of ambition and humility, is proudly the forerunner in terms of holistic education meeting International standards in every aspect. I feel extremely privileged and humbled to be a part of this institution. Prior to joining this institution, my experience with Delhi Public School, Faridabad and Apeejay School Faridabad, the wide spectrum of responsibilities in academic and administrative arenas has widened my vision of the intricacies of education. Presently at the helm of affairs as the Vice Principal of the Middle and the Senior School of MRIS-14, I can say that every step forward bespeaks of immense ground planning and positive approach to the latest development, for which I wish to express heartfelt gratitude to the dedicated staff, the ever supportive parent fraternity and all well-wishers of the Manav Rachna fraternity.
Throughout my association with the school, I have been awed by the genuine concern and infallible efforts taken by the institution in overall grooming of each child that enters the school campus not just academically but holistically. We are living in a rapidly changing complex society that presents unfathomable challenges as well as opportunities in front of us. How every individual responds to such situations depends on the right mindset that is nurtured in each. We definitely need an all-encompassing education to foster the needs of the dynamic millennial and help them become better individuals with the requisite skill sets. I firmly believe that every human being is endowed with multiple talents and skill is a precious gift of God. MRIS is one of those institutes which provide ample opportunities along with a value-based wholesome quality education to cater to the inner latent potentials of every child.
What is indispensable today is the will to possess the heart and mind to stride forward to grow better than yesterday. It is this strong belief that makes our campus a student's paradise. Nothing in the world can be more fulfilling than the sight of ebullient young champions following their passion ardently, be it Sports, Academics, Robotics, Art, Dance, Music and all facets of Life Skills that MRIS-14 offers to its students. Walking through the corridors of our school campus, my heart is glad to see every child being able to find a channel to pursue her dreams passionately; be it creative writing, reading, theatrics, sculpture, basketball, football, swimming, cricket, Yoga, oration…..the list is endless.
The various clubs in the school aspire to forge the right values in our students. The Eco Club has been involved in tree plantation across the city; our Eco Warriors took it as a challenge to make citizens aware of the environmental concerns through 'Mission Vasundhara'. The fervent involvement of students in the Sustainable Developmental Goals is exemplary and heartwarming at the same time.
To conclude and to sum up, it is exceptionally rewarding to be associated with an institute brimming with positivity and sanguinity of the highest order. Here, I would like to quote the following lines from 'Psalm of Life' by Henry Wadsworth Longfellow:
"Lives of great men all remind us
We can make our lives sublime,
And, departing, leave behind us
Footprints on the sands of time;
Footprints, that perhaps another,
Sailing o'er life's solemn main,
A forlorn and shipwrecked brother,
Seeing, shall take heart again.
Let us, then, be up and doing,
With a heart for any fate;
Still achieving, still pursuing,
Learn to labor and to wait."
"Still achieving, still pursuing" – this idea is what makes each one of us dynamic individuals and I aspire to instill the same motivation in my students.