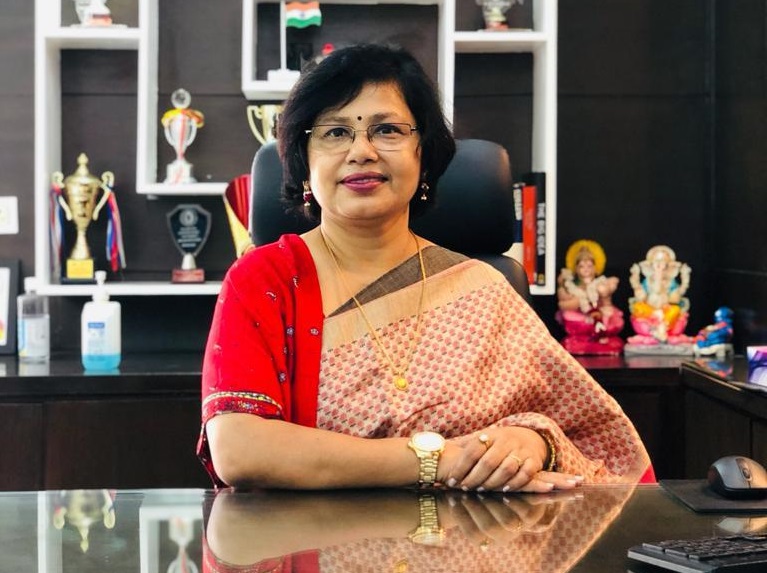 Dr. Suchitra Bhattacharya Principal
Principal's Message – MRIS Charmwood, Faridabad
Qualification: M.Phil, Ph.D, a trained classical singer and a Bharatnatyam dancer. 
Experience: 20 Years
Dr. Suchitra Bhattacharya joined as the Principal of Manav Rachna International School, Charmwood, in the month of February, 2020. She started her career as a teacher in Punjab and has over 20 years of experience in teaching, administration and management of schools in cross-cultural, multi- disciplinary environment across geographical and regional boundaries.
She is M.Phil, Ph.D in Education, a trained classical singer and a Bharatnatyam dancer. 
Coming from the Army fraternity, Dr Suchitra always stood besides the students in border areas. She loves to spend time with teenage children and listen to their dreams. The innocent smile of the little children always attracts her the most. She enjoys being encircled by them in school.
She has been the Principal of reputed ICSE and CBSE schools in Kolkata and Delhi and is a professional developer of curriculum for teachers, pedagogies and learning styles. Prior to this appointment, she was the principal of GD Goenka Public School in Delhi. She is a keen writer and a social worker. As an educationist, she has been very active in various Ted Talks and shared her views in other panel discussions on education policies and developments. She also received many awards for her contribution to the society in the field of education.
Dr Suchitra is closely associated with CBSE. She is a CBSE master trainer for teachers and principals. Whole Child Education is what she feels is the need of the time and she takes full responsibility to give the best to everyone under her guidance. As a true educationist, she has great faith and hope in the present generation. She strongly believes that today's young generation has immense potential and only need to be guided with smile, motivation and understanding to get the best out of them. 
Qualified singer (B. Music) and Diploma in Bharatnatyam. Loves singing and is a violin player too. Of late enjoying writing in various educational magazines on school curriculum and pedagogy.