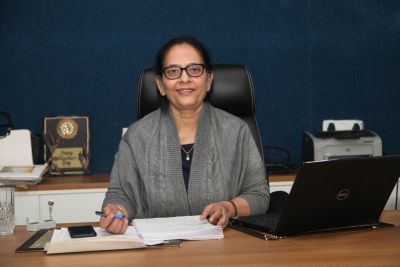 Ms. Sanyogita Sharma, Director – MRIS​
One question often asked by parents of all age groups is about the skills, 21st Century skills and how is the school going to develop them in children. I think this question is being more frequently asked during this pandemic time as all of us are getting exposed to new normal practices and hearing about many unconventional jobs and Careers, more so become we have realized that the children in schools today are going to work, may be after five to ten years from now and what holds good today may not be of value then. We are seeing transformation in the job markets and many new areas are gaining focus in the technology space. So what is it that will help children succeed in future years?
In this knowledge & technology rich age- when things are rapidly charging, skills that have become essential to be learnt, along with the universal human values, character traits and ethical behavior can be classified into three categories: Learning Skills, Literary Skills and Life Skills. Manav Rachna International Schools integrate these skills into its curriculum structure and pedagogy with a visible focus on Socio Emotional Learning. Learning Skills – of creativity, critical, thinking, problem solving and decision making are part of the inquiry based curriculum of CREST, Life Skills & the Teaching learning methodology followed in all schools. Right from Early Years, each child is given opportunities for self-formation, discovery, problem solving and taking age appropriate responsible and caring decisions.
Literacy skills – Besides the literacy of multiple languages like English, Hindi, Sanskrit, French, German and Spanish. The students learn media and digital literacy. Online classes on Microsoft Teams with the relevant technological learning apps and tools, the students are exposed to multiple literacies for responsible communication for social relationships.
Through a structured life skills program, students learn the Soft Skills of flexibility, adaptability, collaboration, compassion and empathy. Through the group, projects assigned, the students learn about teamwork, and inter-dependence. Education at Manav Rachna is wholesome & holistic where the caring and competent teaching professionals provide a highly motivating and supporting environment where every child feels s/he can identify his/her own identity and realize his potential to the optimum. Manav Rachna promises a world of possibility to be achieved with a step wise action plan and encourages parents as well to invest in empowering and equipping children with right skills, attitudes and behavior with a strong character..
Ms. Sanyogita Sharma, Director – MRIS