The November issue is the time to dive into the hearts of our learners. There are times when incessant failures, peer pressure, family pressure, bullying, and many other issues pull the child down the ladder of accomplishment. This is the time when the child needs support-a mentor to motivate him/her and walk with him/her on the path of life. In November series, we are bringing motivational memories and happenings of Manav Rachna School's students and teachers to melt your heart. 'Whether it's a teacher who saw your potential, a boss who made you their protégé, or a coach of a sporting team-a mentor can be found anywhere and everywhere, as long as someone you admire and consider that person as your  ideal and idolize to shape up the path of your life.' Let's see what the author here has to share with us from her and her mentee's life! Editor
My Role as a Lifetime Mentor
"A mentor is someone who sees more talent and ability within you, than you see in yourself and helps bring it out of you"- Bob Proctor
In this world, the human being is like a wayfarer. Although one can walk all alone, one still looks up to someone who would help him her to seek out the path of success, so that he or she can find his or her purpose in life. This is what the presence of a mentor does in our life!
A mentor is a person who shows the light to a blind person, the path to a lost wanderer, and sunshine on a rainy day. No matter how tangled up the threads of our thoughts, he finds a way to untangle them easily. A facilitator, guide, idol, whatever you call them, it does not matter. The cardinal point is that anyone can be a mentor if they spark in their minds a thought, or an idea and the confidence required to deal with a quandary. A person finds in their mentor the guidance, information, and encouragement he or she needs to succeed in life. This is what the aforementioned quote summarizes.
Manav Rachna as my Guiding Light
In any person's life, the school is known to be the first hub of socialization, where the nurturing happens for the learner to reap the fruits of success and glory in the years ahead. And this is where my voyage of learning got underway – right here at Manav Rachna International School, Sec-14, Faridabad, one of the premiere CBSE Schools in NCR.
Now that I am in Grade 12, looking back at the day, 15 years ago when I first stepped into this school, feels like a mystic dream- the fragments of which I still nurture and relish in my thoughts… riding on the bus for the first time with a little backpack, making new friends bring back sweet and imprinting recollections. The field trips and day camps in our junior years form part of some of the best memories that I have made in this school. Thus, I can proudly say that I have seen this school grow with me. It has given me the confidence to step into the outside world not only through theoretical knowledge but more through the life lessons and moral values inculcated. This makes me grateful to the school and every single person- those who have given their heart and soul for the betterment of Manav Rachna as a mentor as well as an Institute.
Mentors also keep your best interests, abilities, skills, and talents in mind, thereby helping you reach your highest potential. By providing information, guidance, and encouragement, mentors can play an important role in nurturing your career aspirations. They kindle in our hearts the enthusiasm and the will to do anything in life. They become an inspiration, catalyst, and idol and someone; we can look up to in case of a downfall. No matter how unpropitious the situation gets; we endure enough vigor to topple any mountain that obstructs our way with the motivation of our mentors This becomes especially noteworthy in the life of students as most of us encounter new situations in our school time.
As in my case, from learning lessons to life skills, all of them have a remarkable space in my heart and mind, be it from a significant teacher, or words of wisdom by our honorable Director Principal Ma'am, Ms. Mamta Wadhwa, during any class assembly or school event which remain persistent in our minds and teach us a lot of things which will help us in future. I learned some of the most vital lessons of life from her short speeches.
Pivotal Role of a Teacher in a Mentor-Mentee program
For a student who has not yet seen the world entirely and is still under a halo that protects them from worldly problems, it is difficult for him/her to realize the objective of their life and what to do when a problem hits them out of nowhere. Since the school provides a world that is separate yet similar to home, children associate themselves with it quite easily. The school becomes a platform for students where they look forward to solving their problems. In this case, the students find their mentors in their teachers. The teachers shape our lives in such a way that when we leave school, their teachings ultimately define us as a person. This can be summarized in the quote– 'A student is clay out of which a teacher creates a beautiful pot'. And so it is! Like a potter, a teacher uses a little pressure to carefully shape her/his students' character. Thus, no one can replace the role of a teacher in our lives.
But when you think of a teacher as a mentor, who comes to your mind? The Math teacher that helps you conquer fractions?  The English teacher who wrote great comments on your stories? The teacher that helped you discover a new sport, hobby, or talent or maybe even nudged you down your current career path?
As far as I am concerned, my mentor and an indispensable support in this vital phase of my life is my Grade-XII English Teacher- Ms. Prerna Rawal. I look up to her for not only seeking career guidance but also for confidently facing tough situations, thriving to achieve excellence through self-belief and hard work. I have her support to make difficult decisions and boost my confidence whenever I feel a bit low. She has helped me realize my ability in English and brought back the confidence in the subject that I had once lost. She has also helped me to sharpen my writing skills and motivated me to pursue content writing. Teaching me to write reports for school magazines, poems for assemblies, and even more, have made me sanguine when it comes to studying English or even using it in my daily life. She has guided me through many problems and taught me several precepts that I would remember throughout my life. Her vast experience in content writing and her way of expressing her views and ideas make her my inspiration. Her relatable life examples have made the lessons taught, so comprehensible that there are hardly any doubts that I encounter afterward. Also, she persuaded and encouraged me to participate in Debate Competitions to ease my fear of public speaking.  I remember the day when during an Inter-School Debate Competition, I suddenly went blank and froze. When saw her in the audience as my cheerleader and gave me the confidence to go ahead despite the hiccup, and I completed the debating rounds. . All I saw in her eyes was her belief in my ability and that inspired my belief in myself as well. Her way of dealing with students with so much aplomb, little jokes while explaining lessons and friendly student-teacher interactions on various topics make her classes enjoyable.
 Most importantly, Prerna ma'am not only works on channelizing my energy to develop my strengths but is quite vocal about my shortcomings also and the ways to eliminate them.
 Sometimes the biggest flaw is the one that we are not able to figure out. The role of a mentor is crucial here as he/she can give you an outside perspective and help to point out weaknesses that you were unaware of. I am grateful that I have her in my life with considerable insight and experience from different perspectives.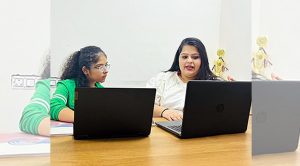 Henc e, the school, the teachers, and my classmates have helped me shape my life the way it is. All the good and bad experiences, memories, both happy and embarrassing, have guided me through this beautiful odyssey called school life. I have encountered a myriad of reminiscences for future retellings and thus, I am highly obliged to my school, the teachers, and the many friends that I have made throughout my school life. This has also taught me the importance of a role model and a person, especially a teacher who can bring a cathartic change in our lives. A teacher is not just a seven-letter word, it is a responsibility. And enduring enough strength to carry out this responsibility is what makes teachers an excellent stimulus for achieving great results in anything they do. One may decide to become a teacher because he/she cares about education. To commit oneself to teach means one cares about education and values the lasting impact this challenging profession has on their students, for a teacher, that vague concept becomes real, specific, and tangible.
 For most teachers, the greatest reward for their job is seeing their students thrive and succeed. This is what being in Manav Rachna School and being educated by such wonderful teachers stand for me and I know that this is what it'll mean to most of the school students be it now or later in life.
Author: Ms. Prerna Rawal, PGT English, at MRIS-14 Faridabad, Narrator- Stuti Chitkara, Student of Grade XII WATSON.